Wesley House Community Services has proudly maintained a longstanding partnership with Kosair for Kids. As an organization specializing in childcare, Wesley House stands as a pillar of support to bring awareness and education for our community's most fragile citizens through WesKids Child Development Center. Here, young minds are provided with a nurturing environment where they can flourish and reach their full potential. This commitment extends beyond care; it represents an investment in the future, shaping the lives of countless children.
Bethany Mattingly, WesKids CDC Director and Lloyd Moore, WesKids CDC Early Head Start Educator welcomed the opportunity to speak at a press conference on October 4 to discuss the signs of child abuse. Kosair for Kids held this conference and subsequent training seminar to educate on ways to identify potential child abuse. The term Ten-4 is an acronym that signifies a commitment to identifying and addressing potential issues, specifically bruising to the torso and ears, in children. This program underscores Wesley House's comprehensive approach to childcare, emphasizing not only emotional and educational support but also physical well-being. WesKids aims to ensure that every is safe, healthy, and thriving.
"As childcare providers, we have the unique opportunity to interact with families face-to-face every day in our classrooms. We notice changes in the behaviors of the kiddos in our care and when parents seem extra stressed or isolated. So, we know how important it is to be trained on recognizing abnormal bruising and how to communicate our concerns to parents and make reports as mandated," said Bethany Mattingly, WesKids CDC Director.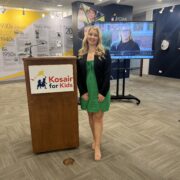 The Ten-4 initiative brings awareness to holistic childcare by prioritizing the physical well-being of children. Wesley House remains committed to advocacy and stand with legacy partners; Kosair for Kids, Community Coordinated Child Care, and Greater Louisville Head Start.
https://spectrumnews1.com/ky/louisville/news/2023/10/04/kosair-for-kids-signs-of-child-abuse-training